The Official Site of the Orange Drag Strip Reunion
Home of the 330 Nationals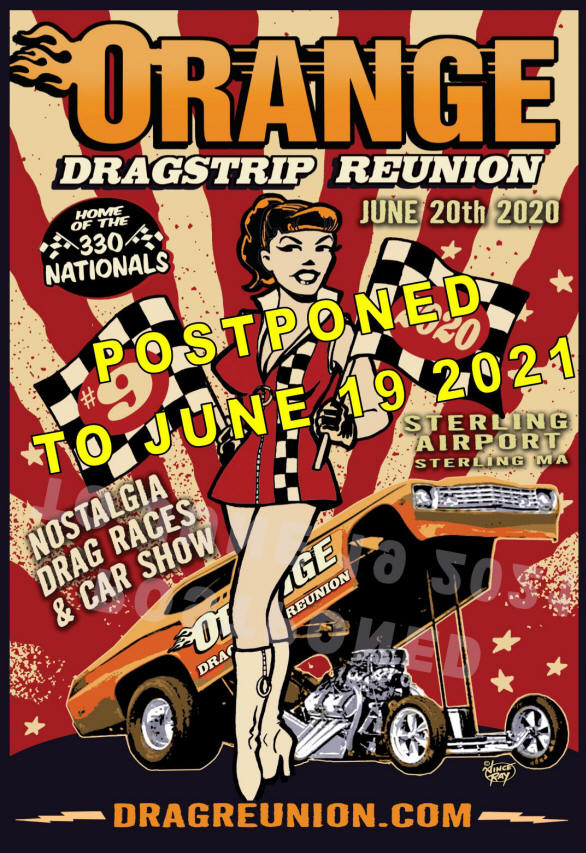 The Worlds Toughest Three Hundred and Thirty Feet
The June 20th 2020 Show Has Been Cancelled
Tentative Date for 2021: Saturday June 19
At Sterling Airport, Sterling MA
---
---
Want all the latest ODR News?

Follow our Fanpage on Facebook
---
The Orange DragStrip Reunion is supported by



Support Your Local Drag Strip - Race at Sterling!
---
General Show Info
Gates open at 7AM for racers and vendors, 8AM for show cars, 8:30 for Spectators
Admission: $15 per person, kids under 13 $5, 8 & under free (with paid adult, limit of 2)
Sorry, No Pets of any kind allowed inside the show grounds
Tentative Show Date: Saturday June 19 2021
Location: Sterling Airport, 121 Greenland Rd, Sterling MA 01564
Rain Date: June 21
All parking is inside the show grounds and free with paid admission
Show generally closes when the racing is completed, typically around 3:30-4 PM
What to bring? Folding chairs and shade tents are welcome, don't forget sunscreen and ear plugs!
Notice: Stake your tents well, YOU are liable for injuries or damages caused by your stuff
What not to bring: Pets, No Pets, this includes all size, shape and type of dogs except assist K9's
also leave your alcohol, pot and profanity home
Please help keep us welcome at Sterling airport, leave your area as clean or cleaner then you found it
---
What's Happening at the 2021 Orange Drag Strip Reunion?

Nostalgia Drag Racing Starting at 10AM as the 8th Annual 330 Nationals take place!
---
Giant Car Show
One of New England's Largest!
There is no additional cost or registration to show your pre-74 car, pickup, bike, static display or cackle car
Just $15 per head at the gate and that's it To find out more click here
---
The Strictly Automotive Swap Meet
Check out a great selection of vintage parts, memorabilia & auto related fashion!
Want to setup and sell at the show? Vendor info Click Here
---
Good Eats
Breakfast and lunch available on site from long time Drag Reunion concessionaires, Double D's Diner
Breakfast Menu: Breakfast Sandwiches, Hot Coffee, Cold Juices, Muffins & Donuts
Lunch Menu: Italian Sausage Subs, Philly Steak Subs, Hamburgers, Cheeseburgers, Hot Dogs, French Fries, Onion Rings, Corn Dogs, Pizza by the Slice, Chicken Fingers, Plus lots of Cold Drinks and Hot Coffee!
Ice Cream!
Jerry's Soft Service will be on site
---
Questions? info@DragReunion.com
Sterling airport is located only a few easy miles off Route 190
Show Map Click To Enlarge

GPS/Google Maps address: 121 Greenland Rd Sterling MA 01564
Sorry no fly-ins at Sterling, the entire airport will be closed to air traffic for the event
---
This page updated: 5/5/2020